How we teach reading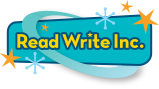 We use Read Write Inc. developed by Ruth Miskin.  It provides a structured and systematic approach to teaching literacy. It is used by more than a quarter of the UK's primary schools and is designed to create fluent readers, confident speakers and willing writers.  Find out more about Read Write Inc here.
Reciprocal reading
The Text-Based Curriculum focuses on developing the pupils' competencies and confidence in word reading and comprehension. Teaching pupils to decode and have speedy recognition of familiar words builds on their learning from the school's teaching of early reading. In order to develop pupils' comprehension skills we use a technique called Reciprocal Reading. Reciprocal reading involves a dialogue between the teacher, teaching assistant, or partner and children, for the purpose of jointly constructing the meaning of a text. It is a group activity where the leader first models a number of effective reading strategies, which the children learn to use for themselves independently.
The strategies practised in reciprocal reading are:
1. Prediction
2. Clarification
3. Questioning
4. Summarising
The group read short sections of a text independently and then discuss it as a group, building their understanding through dialogue.
We also develop children's comprehension skills through ensuring the pupils, over the course of a term, read widely across fiction and non-fiction texts. This allows pupils to increase their vocabulary because they encounter words they would rarely hear or use in everyday speech and to develop knowledge of the world in which they live in. In addition, reading tasks and carefully planned questioning helps develop the pupils' ability to answer literal comprehension as well as being able to read for meaning and show an appreciation of reading.
Literacy
Once pupils have learned to read independently, they move onto the school's Literacy programme- The Text-Based Curriculum. Each year group has carefully chosen quality core texts, that link to the class' over-arching theme for the term (including fiction and non-fiction texts) which act as the stimulus to teach pupils to speak and write fluently so that they can communicate their ideas and emotions to others. Having engaging and challenging core texts allows pupils to develop a love literature and read for enjoyment. Ensuring all pupils develop all the skills of language are essential not only in order to access the rest of the curriculum but also to participate fully as a member of society and ultimately impact on their future life chances.
Over a three week period pupils have a series of lessons all linked to the core text. These lesson types are then repeated. The cyclic nature of this curriculum ensures a rigorous curriculum, which enables pupils to both acquire knowledge and build on what they already know. The curriculum promotes high standards of language and literacy by equipping pupils with a strong command of the spoken and written language and through developing their love of reading.